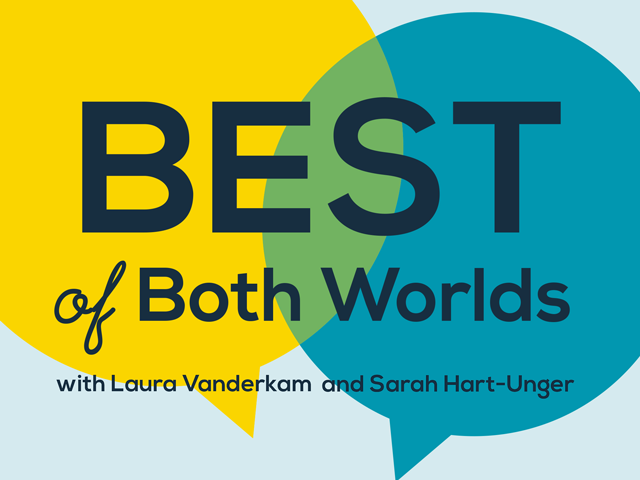 I'm mostly off-line this week with spring break, but I'm just popping in here to talk about this week's podcast. It's really a good one, so I hope you'll give it a listen!
There comes a time in many people's careers when you think "hmm…is this really what I want to be doing?" One option is to switch jobs, or even careers. But another option — and sometimes the wiser option — is to turn the job you have into a job you love. Almost any work situation can be improved a great deal by some strategic thinking, creativity, and being open to opportunity.
So this week, Sarah and I are talking about career crafting. We have both done a fair amount of this, though I think hers is the more interesting version of it.
A few years ago, when she was seeing patients for 9 clinical sessions per week, without a particular focus within her specialty, she was feeling like she was on a treadmill. She was never getting enough time for her various other interests — both medical and otherwise.
So she figured out what she wanted her ideal week to look like, and started making some adjustments. One thing she did was to volunteer to become the associate director of the new residency program her employer was starting. This allowed her to tap different parts of her expertise (in teaching and planning) and to pursue her interests in reforming graduate medical education.
She also doubled down on pursuing a specialty. She had inherited a number of transgender medicine patients from a physician who'd been in her practice previously, and so she became well-versed in best practices and the (rapidly evolving) guidelines. Since this is such a new and changing field, she could become a sought-after expert a mere 5 years into her life as a practicing physician. This is opening up all sorts of opportunities for research and thought leadership too.
And finally, she made space for sidelines outside her main job. About a year and a half ago, she asked for an 80 percent schedule. On the one day per week she doesn't work at her main job, we record our podcast, she often blogs, and she's been working on her planning e-book. There are not many people in the world with recognized expertise in transgender medicine AND planning processes, but that's a happy upside of carefully crafting a career into something that works uniquely for you.
In my case, I am quite happy with how I have — over time — been able to incorporate a lot of my different interests into what I do now. I've always loved to write (and write long) and I'm doing that now with my books (even fiction, now that Juliet's School of Possibilities will be out in March 2019!). Growing up, I loved singing, dancing, and performing, and now I'm on stage pretty much every week, doing my own one-woman show (with an emphasis on time management). I like math, and economics, and original research, and my time diary projects have allowed for all that. There is no one obvious job one can apply for that incorporates all this, but when you make your own job, why not?
If you've been able to turn the job you have into something closer to your ideal situation, I'd love to hear about the process. How did you start crafting your career to spend more time on what you like, and less on what you don't?
In other news: Off the Clock, my next book, will be out on May 29! I am happy to announce my Off the Clock book club. If you pre-order a copy (before May 29) you'll get a few goodies: an advance excerpt (so you can start reading now!), access to an exclusive webinar about the book, an Off the Clock Time Makeover Guide, and I'm happy to send you a signed book plate that you can stick in the physical book when it comes (US + Canada only). Just fill in the details about your purchase here. Thanks! Pre-orders show booksellers that there is a lot of interest in the book, and influences how many copies they wind up ordering.
In other, other news: Today is what I think of as Off the Clock Day. My time diary study for the book is based on how 900+ people spent March 27, 2017 — which happened to be a Monday. It's Tuesday this year, but it's interesting to think that this one day in March is now memorialized in my archives…