The good news is that the air conditioning in three of the children's rooms is now working. As part of the massive home renovation, we put in an all-new HVAC system. But one of the AC zones was just not working. And sadly, it was the zone that covered three bedrooms, which made for some uncomfortable sleeping this week for a few folks. We opened windows and turned on the ceiling fans at full blast, but when it is 80 degrees at 9 p.m. it still feels a bit warm. (And one child was worried about monsters or other scary things outside the windows and didn't want the windows open and…sigh).
Anyway, that particular problem has been diagnosed and solved. Now that the alarm system is no longer beeping at 8 a.m., 6 p.m., and 9 p.m., this place is really starting to come together!
A future Best of Both Worlds episode will be focused on make-up and accessories. As part of that, I did my how-to-apply-make-up tutorial this week and I thought the make-up looked pretty good. I'm going for "natural" yet youthful and glowy. Be on the lookout for that episode later this month!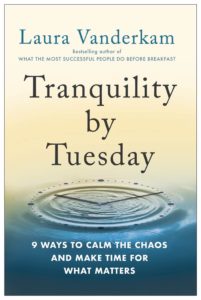 I also did a cover reveal for Tranquility by Tuesday in the Just a Minute newsletter (and over at Instagram). I have linked to the Amazon page here before, so it wasn't a big secret, but we'll call it a reveal nonetheless. I hope you like the cover (pasted in here). If not…maybe don't tell me 🙂 I am very excited to share this book with the world in October.
In the meantime…I'm still writing other things! Over at Medium this week, my column looked at 10 Ways to Make Mondays Magical. I've written in the past about people looking forward to Mondays because they love their jobs, but I truly believe that even if you aren't infatuated with your job, Mondays can be great. As long as you don't actively hate what you do for a living there are lots of little things you can do to mindfully boost happiness during most people's least favorite day of the week.
The Before Breakfast podcast covered several topics. I suggested people "Make one spot a haven." Even if the rest of the house is cluttered, one particular serene spot can put you in a different frame of mind. I suggested people "Get to know one bit of nature" and that "When you're running late, communicate."
This weekend will feature a lot of driving around, though I hope to get started on the summer fun list (strawberries!). I am sitting on the hammock almost every day. And slowly getting through the boxes…