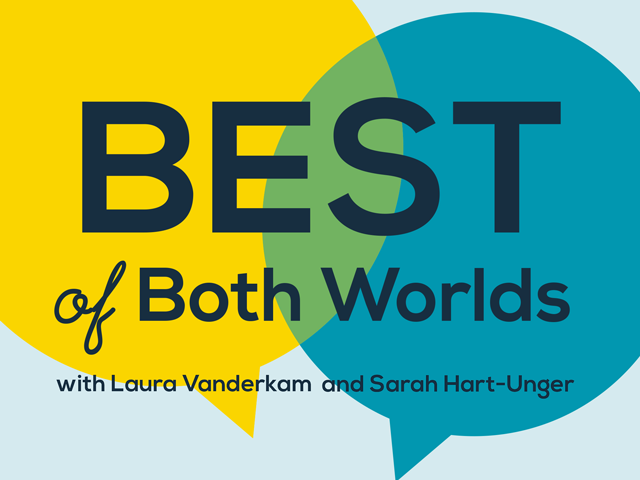 Plenty of people — men, women, parents, and others — would like to work flexibly. Being able to control which hours you work makes it possible to work many more hours without experiencing work/life conflict. Being able to work from home sweetens the deal even more by removing the commute from the equation. While you'll still work a whole day (or even more!) you can do personal things during your breaks. Like get a workout in. Or nurse a baby.
Some work cannot be done flexibly and remotely. But much can, and yet much work is not done that way. One major reason is that it seems very difficult to manage remote and flexible workers. If you, as a supervisor, are trying to meet your numbers, introducing flexibility can seem like introducing chaos.
But that doesn't have to be the case! Today, Sarah and I are delighted to welcome Meredith Monday Schwartz to the podcast. Some readers of this blog (and Sarah's) probably know Schwartz from her Penelope Loves Lists days. She is also the CEO of Here Comes the Guide, a wedding planning company. Her staff of 23 all work virtually. She had a lot of helpful tips on making this work.
Ease in. Here Comes The Guide went through a 4-year process of transitioning from an in-office company to a virtual company. People began working from home one day a week, then two. They actually spent an entire year with everyone working in the office one day a week so that they could build in systems for supporting remote work.
Preserve face-to-face interactions. Here Comes The Guide has a really cool software program (much like Second Life!) that allows people to see their colleagues' avatars. They can see who is at their desks and pop over for an instant virtual chat. They get a birds-eye view of the office so they feel like they're actually there. They also meet twice a year for retreats where they hang out and have fun and build friendships.
Put some guidelines on flexibility. Schwartz asks her employees to pick a certain 8-hour schedule that they generally plan to work. If you want to work 7 a.m. to 3 p.m., or 9 a.m. to 5 p.m., great, that's your choice. But with some core hours set, make sure your colleagues can know when you'll usually be there. If you have a kid event and need to make up time at night, that's OK — but the goal should be that there is work time and not work time, and people aren't checking email all night just to see what people sent.
Hire well. Schwartz hires very very carefully. She wants people who are motivated self-starters, and who don't need to be monitored. She wants people who look out for the team more than themselves. Perhaps it is not surprising that many of her employees are moms! It's partly for the schedule, partly for the business (weddings!) and partly because that's who often works well under these conditions.
Enjoy the upsides. Here Comes The Guide has almost zero turnover. Because almost any life event can be dealt with! Some of Schwartz's employees have military spouses, and they can keep working wherever their spouses are stationed. Given how hard it is to hire people, this is a major benefit for anyone in management to consider!
If you work for a company remotely or flexibly, or your employees do, how do you make it work? Please share any tips or strategies, or things that DIDN'T work — because those realizations are helpful too.